There are a lot of free plugins out on the market right now, but not all of them are the greatest of quality.  So I have compiled a list of 10 free VST plugins that I would have easily paid for.  All of these plugins are high quality and are offered at a price that can't be beat.  So without further ado, let's get on into the list.
Klanghelm Audio – IVGI (VST/AU/RTAS/AAX, Win/Mac, 32/64-bit)
This is a really nice saturation/distortion plugin that sounds great on drums, bass, and guitars.  I like to use it to brighten up distorted and acoustic guitars, as opposed to using an EQ, as it adds a sound and vibe that's different from an EQ.  It can also be used subtly on the mix bus to add a little color and warmth to the mix.
Cableguys – PanCake (VST/AU, Win/Mac, 32/64-bit)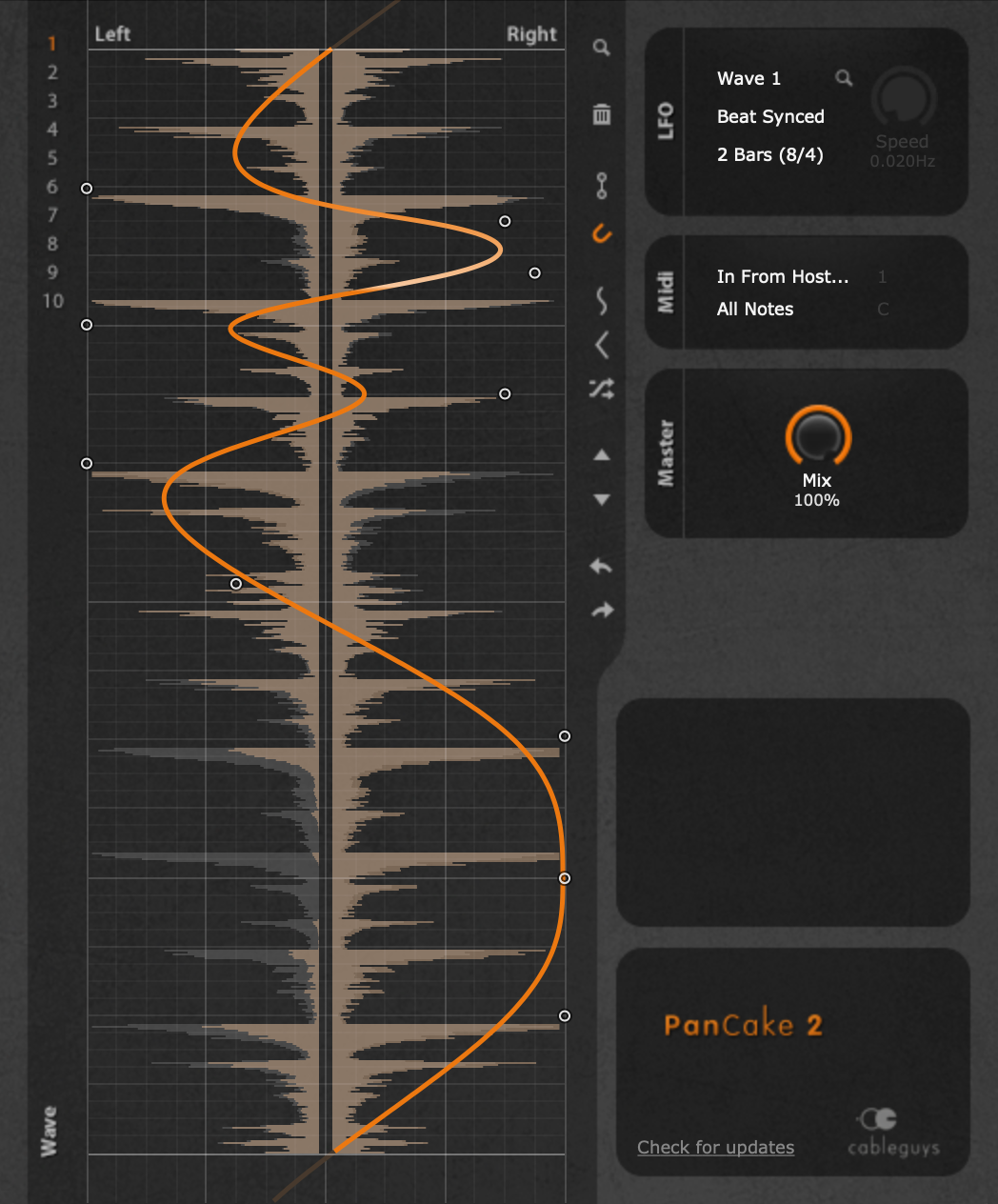 This is a great way to add stereo depth to an instrument or vocal by simply moving them across the stereo spectrum.  You can be as simple or as complex as you want as you are able to shape and manipulate the control points of the LFO.  Certain digital audio workstation come with built-in auto panning effects (i.e. Ableton, Pro Tools, etc.), but they typically don't offer nearly as much flexibility as this plugin.  Experiment with PanCake and add a subtle bit of depth and movement to an otherwise unexciting sound.  I like to use this plugin on synths, hi hats, percussion, and background vocals as it can really add some movement and excitement to the performance.
Brainworx – bx_solo (VST/AU/AAX, Win/Mac, 32/64-bit)
Brainworx bx_solo is a great way to add a bit of stereo width to an instrument.  It's also a great way to check your mixes in mono.  All you have to do is simply put this plugin on your master fader, dial the stereo spread down to zero, and viola you can quickly switch between mono and stereo by simply bypassing the plugin.  You can also check the middle and sides of your mix or a source by pressing the 'M' or 'S' button, respectively.  This may not be the most glamorous or flashiest plugin, but it is a very useful and easy to use plugin.
Softube – Saturation Knob (VST/AU/AAX, Win/Mac, 32/64-bit)
One of the best parts about this plugin is its simple interface.  Simply turn the knob and you have more or less saturation.  You can also alter the character of the distortion by using one of three settings: keep lows, neutral, and keep highs.  The keep lows mode doesn't allow the saturation to affect the low end.  The neutral mode allows the saturation to affect the entire frequency spectrum.  And the keep high mode keeps the high end unaffected by the saturation.  The only downside of this plugin is that it doesn't have a way to trim/turn down the output gain.  So as you turn the saturation knob up, the source gets louder.  This is a great plugin for adding a little character and shimmer to a vocal; fattening up bass and drums; or, completely mangling and destroying your audio.
Valhalla – Freq Echo (VST/AU/RTAS/AAX, Win/Mac, 32/64-bit)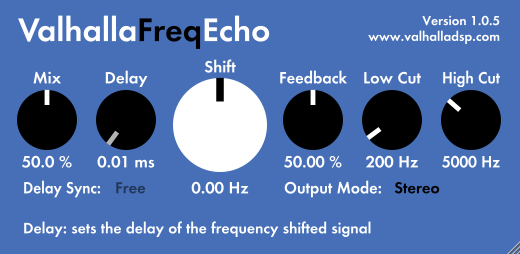 What's better than a free echo plugin?  How about a free echo plugin with a built in frequency shifter?  I really like this plugin because not only can you get some great analog echo emulation, but you can also create a lot of different textures with the frequency shifter.  Experiment by automating the frequency shifter for some unique echo tones.  Use it on background vocals to create eerie and haunting sounds.
Brainworx – Cleansweep (VST/AU/AAX, Win/Mac, 32/64-bit)
The bx_cleansweep is a great filter plugin that can be used for tightening up a mix.  These high-pass and low-pass filters are great for cleaning up low-end mud and high-end harshness.  The filters on the cleansweep are very easy to use and sound great.  The bx_cleansweep uses analog style filter curves to reduce common digital problems like harshness and aliasing.  It is also very easy to dial in the modern filtered sound that you hear on many modern Hip-Hop & R&B productions with this plugin.
Download: https://www.plugin-alliance.com/en/products/bx_cleansweep_v2.html
Camel Audio – Camel Crusher (VST/AU/RTAS, Win/Mac, 32/64-bit)
The Camel Crusher is a coloring multi-effects unit from Camel Audio.  The Camel Crusher includes two types of distortion, a high-quality compressor, and a warm analog filter for shaping the tone of your sound.  This is a great plugin for adding color and warmth to your tracks.  I like to use the compressor and distortion for warming and fattening up sounds like synths, drums, and bass.
Download: http://www.audiopluginsforfree.com/camelcrusher/
Xfer Records – OTT (VST/AU/AAX, Win/Mac, 32/64-bit)
The Over The Top (OTT) multiband compressor from Xfer Records is a fantastic downward compressor.  This plugin is based on the OTT preset of the stock multiband compressor in Ableton Live.  If you don't have Ableton Live then this is a great plugin for you to add to your arsenal.  This is a very aggressive sounding compressor, so it may not be ideal for all applications.  The key to really dialing in the right amount of compression is to use the mix/depth knob.  If you use it just right you will have the benefit of punchy compression, without it being too upfront or overbearing.
Download: https://xferrecords.com/freeware/
Slate Digital – Revival (VST/AU/AAX, Win/Mac, 32/64-bit)
Slate Digital Revival is a fantastic sonic enhancer.  It's a great way of adding upper and lower harmonics to a source.  It is also a great alternative to a high or low shelf boost with an EQ.  This plugin only has two knobs: shimmer and thickness.  Looking to add a little air, clarity, and width to a track?  Turn up the shimmer knob.  Looking for a little more body, depth, and warmth?  Turn up the thickness knob.
Revival can be subtly applied to the mix bus or aggressively applied to thicken up a kick, bass, or to brighten up a vocal.  Revival is also great in the mastering stage, as well as the mixing stage.  This is the only plugin on this list that requires an iLok in order to use.  So while Revival is free to download, you need to have an iLok and an account with Slate Digital (which is free).
Download: http://slatedigital.com/revival/
Tokyo Dawn Labs – VOS SlickEQ (VST/AU/AAX, Win/Mac, 32/64-bit)
Finally, the last plugin on this list of 10 free VST plugins is the SlickEQ.  This is a brilliant three band mixing/mastering EQ that offers quite a bit.  The SlickEQ has four distinct modes of equalization.  These four modes are American, British, German, and Soviet.  If you want to warm up your audio the SlickEQ offers a switchable EQ non-linearity and four different saturation models.  There is also a built-in auto gain function which automatically compensates for any perceived loudness changes made while EQing.  This is a great way to keep your EQ decisions honest, as perceived loudness can often affect our judgment when EQing.
Download: http://www.tokyodawn.net/tdr-vos-slickeq/
So there you have it!  10 free VST plugins that you can incorporate into your music productions today.  Which of these 10 free plugins do you like the most?  Are there any that you like that were not mentioned?  Let me know in the comments below.